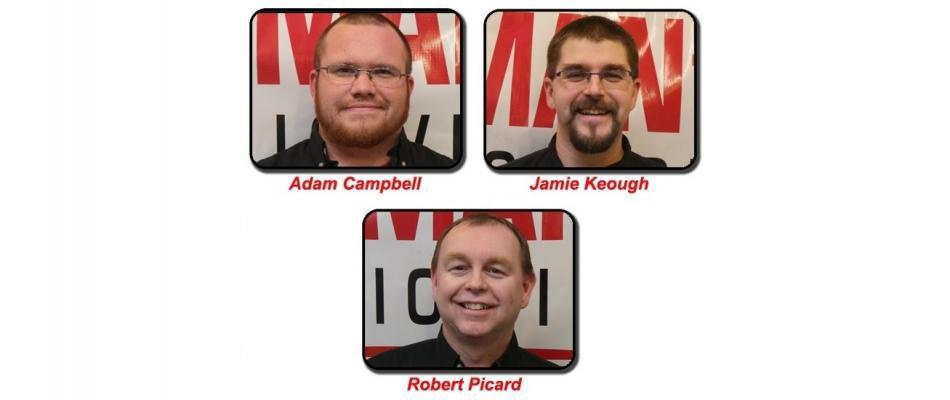 Adam Campbell
Adam began working for Enman's AVU in the fall of 2000. He graduated the Electronics Engineering Technology program from Holland College and went on to represent PEI twice in the electronics division of the Skills Canada competition, finishing in the top three of the country each time. In 2008 he was invited to join the ownership group at Enman's AVU. Since obtaining his Amateur Radio Licence in 2004 he has been an active member of the Summerside Amateur Radio Club, spending several of those years as club president. Adam lives in Clinton, PE, with his wife Bev and son Braxton.
Adam can be reached at: Adam_Campbell@avu.ca
Robert Picard
Robert is excited to be back with Enman's as it celebrates it's 50th year in buisness! Bob is particularly looking forward to keeping up the tradition of great products and excellent service that is the staple of Enman's Bob started at Enman's after graduating from Holland College with an Electronics certificate in 1979. He enjoyed working with Chris, but was drawn to see what else Canada had to offer. This led him to open his own Sound and Lighting Company in Hamilton, Ontario, which took him touring all across Canada. Bob kept in tough with Chris over the years, and finally moved home in 2009 (like most Islanders do) to partner in the buisness with Chris. Bob moved back to PEI with his wife Mary and son Lucas, while his daughter Shawna stayed in Ontario where she works in the music buisness.
Bob can be reached at: Robert_Picard@avu.ca
Jamie Keough
Jamie has worked off and on for Enman's AVU since 1997 leaving to further his education, but he always loved retail work and that has drawn him back to the crazy crew of Enman's AVU. Jamie attended Holland College from 1997 to 1999 where he received a diploma in the Business Information Technology, and a certification in Novell Network Administration. Jamie has lived in Summerside his whole life, and is proud to raise a family in our community.
Jamie can be reached at: enmans.jamie@live.com